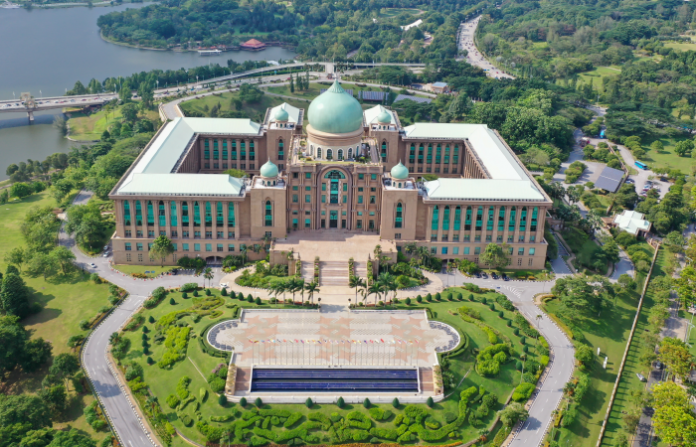 Putrajaya is the Federal administrative capital of Malaysia. The beautiful city, known as "Intelligent Garden City," is located approximately 30 km to the south of Kuala Lumpur. The city became the third Federal territory as Kuala Lumpur became congested, and Putrajaya took over almost all administrative functions of the capital.
The city is planned and developed like a modern city with progressive infrastructure and the latest communication technologies. The well-organized city has an elegant design with European influences on the streets, and the government buildings are of modern architecture decorated with Islamic arts. The city's concrete landscape is well balanced and interspersed with parks, wetlands, and greenery. All the areas of the city, including authorities, commercial and residential regions are divided into precincts. 
Book an online bus ticket to Putrajaya!
The beautiful garden city's just not a Federal Administrative capital of Malaysia but is also known for its various tourist attractions. The noteworthy places here are: 
Perdana Putra
The Perdana Putra Complex, located in the Precinct-1 overlooks Putra Mosque, Putrajaya Lake, and Dataran Putra. The complex is designed with elements of Islamic-Mogul architecture. The central dome is onion-shaped with a glazed mosaic and is a replica of Masjid Zahir. Four smaller domes surround it. The main block is decorated with water jet stone carvings.
Highlights:
Travel tips – Wear formal attire, no shorts, pants or skirts or chappals or sandals. Non-Malayasian visitors need to carry their passport.
Putra Mosque (Masjid Putrajaya) 
This beautiful Masjid is the most distinct landmark of the place. One of the World's most modern mosques Putra Mosque or Putrajaya Mosque has a beautiful blend of Islamic architecture with traditional design and the use of indigenous materials. The Masjid Putrajaya is designed after Persian Islamic architecture from the Safavid period. Putrajaya Mosque is known for its pink color and has a capacity of 15,000 worshippers at a time. 
Check out: Beautiful mosques of Malaysia
Highlights:
Travel tips – Don't miss the Putrajaya Lake just opposite the Masjid. 
Putrajaya International Convention Center, Presint 5. Dominantly located at the end of the Putrajaya Boulevard, this showcase squashed UFO of a building, designed to resemble a Malay belt buckle, was built for the Organization of Islamic Countries conference in 2003.
IOI City Mall Putrajaya
This sprawling IOI City Mall Putrajaya is a huge shopping mall located just 10-minutes' walk from the Palm Grand Hotel. The IOI City Mall spread over four stories is known for its numerous shopping, lifestyle, dining, and entertainment options. The shopping center is surrounded by beautiful parks and shaded walking paths and has gorgeous water fountains. The IOI City Mall is known for its scenic sunset views.
Highlights:
District 21 – is located in the

IOI City Mall

. The theme park is suitable for all age groups and has several obstacle courses.

Ice-skating rink

Multiplex cinema
Travel tips – Botanical Garden, Putrajaya Bridge, and Putrajaya Mosque are within a few minutes' drive from the shopping mall. 
MyBalloonFiesta
MyBalloonFiesta, formerly known as Putrajaya International Hot Air Balloon Fiesta, is Kuala Lumpur's annual event. The event is colloquially known as hot air balloon Putrajaya and takes place in Desa Parkcity. The hot air balloon is based on New York's Adirondack Hot Air Balloon Festival. It has activities and entertainment for the whole family. One can see colorful balloons of every shape, including quirky and outrageous forms in the hot air balloon.
Highlights:
Live Jazz/cultural performance

Food trucks

Balloon workshops

Evening firework display
Travel tips – Purchase the MyBalloon Club Pass to ride a tethered balloon.
Putrajaya Lake
In the heart of Putrajaya is the beautiful manmade lake, Putrajaya Lake spread over 600 hectares. The lake is surrounded by landscaped parks and many of the famous buildings of the city, such as Putra Mosque and Putra Perdana. The lake is constructed and designed to work as a natural cooling system for the Putrajaya city. It also offers recreational activities like fishing, water sports, and water transport.
Highlights:
Putrajaya Bridge – the beautiful two-decked bridge connects Government Precinct to the Mixed Development precinct. It provides light rail, vehicle, and pedestrian access. 

Putra Boating Club House – perfect to rent non-motorized boats or canoes and can be rented to hold functions. 
Travel tips – Take a cruise to enjoy the landmarks located around the lake. There are two types of boats available. The wooden perahu is intimate sized and ideal for a traditional experience. For a "Putrajaya-style" Parisian romantic ride, take the air-conditioned catamaran, which is perfect for modern sightseeing or dining excursions on the lake.
Visitors can easily reach Putrajaya from Kuala Lumpur via a bus to Putrajaya Sentral. This is a multimodal transport hub with many eateries and shops too. One can take a bus anywhere in the city or to nearby cities from here. Traveling in and around the place is very convenient with the help of redBus. You can travel anywhere in Putrajaya easily by booking bus tickets online. No matter where you want to go, you can instantly book your bus ticket and seat from the ease of your mobile phone. Choose the best convenient timings, bus type, and boarding points from hundreds of bus operators working around the city.
For information about bus ticket booking in Malay, please visit: Tiket bas online