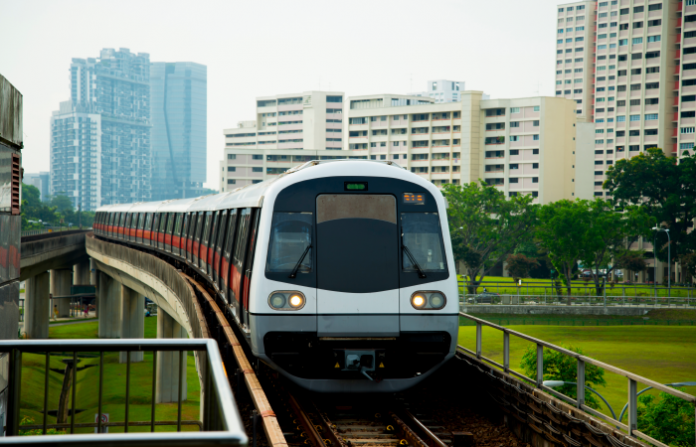 Terminal Bersepadu Selatan, or TBS, as it is colloquially called, is the central bus station of Kuala Lumpur. TBS is located just adjacent to the major train station, BTS (Bandar Tasik Selatan), and is an extended part of BTS. Together they both make the Integrated Transport Terminal (ITT) or a transport hub. TBS is the only operational ITT out of the three ITTs of Kuala Lumpur. 
History of Terminal Bersepadu Selatan (TBS)
A few years back, the Pudu Sentral Terminal (Puduraya), a previous bus terminal of Kuala Lumpur, was facing heavy congestion. To overcome this congestion of traffic and to smoothen out the transport or traffic load, TBS was planned and built. In the initial planning, TBS was to serve the southbound buses and take over the Kuala Lumpur outbound buses slowly, ensuring Pudu Sentral Terminal is a city bus terminal. The long-term plan for TBS was to take charge of almost the express buses from Udu Sentral, Hentian Putra, and Pekeliling bus station. This way, TBS would have all the southbound and East-coast bound express buses. 
Terminal Bersepadu Selatan was operational from January 2011 with it taking over from Pudu Sentral's all southbound long-distance buses. From December 2014, all East-coast bound buses shifting to TBS with Hentian Putra ceasing its operations. By November 2015, TBS had services of 545 out of 635 northbound buses from Pudu Sentral. This completed the replacement of Pudu Sentral by TBS and TBS, becoming the main express bus terminal of Kuala Lumpur. Currently, TBS is integrated with BTS forming the TBS-BTS transport hub and is the leading express bus terminal of Kuala Lumpur.
Location of Terminal Bersepadu Selatan (TBS)
Terminal Bersepadu Selatan is located roughly 10 km south of Kuala Lumpur City Centre. The terminal is in proximity to the Middle Ring Road 2 and within easy distance of Besraya Expressway. Its accessible location gives it the advantage of a better expressway network throughout the country. Due to its location, anyone can easily commute to the city of Kuala Lumpur by any of the numerous city buses or taxis. People from the city also commute here easily. 
Here are some of the popular routes to TBS:
Amenities of Terminal Bersepadu Selatan
Terminal Bersepadu Selatan has over 60 bus bays or platforms, approximately 150 bays for taxis, and around 1,000 bays for general parking. The scale of the structure has made it the major bus terminal for Kuala Lumpur. The entire Terminal Bersepadu Selatan is air-conditioned and has comfortable seating arrangements for a massive number of passengers, including VIP rooms and lounges. Apart from these other standard amenities like storage rooms, trolleys, childcare rooms, eateries, ATMs, and shopping outlets are also there.
Highlights:
Food Court – with many options for fast food and regular food from many cuisines, is available.

Hotel Transit Rest & Go – is there for passengers who need to wait for a few hours before they catch their bus.

Rest N Go Exclusive Lounge- has many Gintell massage chairs for the comfort of passengers, who want to sit and relax. 

VIP Lounge- is perfect for passengers looking for some ultra-comfort and quiet time away from the general waiting area.
Note – The Hotel Transit Rest & Go also has the facility of reflexology (foot massage) and any other massage.
Ticketing at Terminal Bersepadu Selatan (TBS)
Terminal Bersepadu Selatan has several options for ticketing. It has 41 counters of Centralized Ticketing System (CTS), which are manned by staff from the terminal operator Maju TMAS. The terminal also has seven ticket vending machines, from which passengers can take the tickets themselves instead of going to the ticket counter. This system is specially set up to deter touts. Also, the departure hall is divided into three distinct sections for the convenience of the passengers. TBS online is also available for the convenience of travelers.
Highlights:
Auxiliary Police security checkpoint

TBS online ticket – to avoid standing in a queue, passengers have the facility of getting a TBS online ticket. 
Note – Only passengers with tickets (including TBS online ticket) are allowed into the departure hall.
Nearby Attractions 
Terminal Bersepadu Selatan is the largest bus terminal integrated with BTS (Bandar Tasik Selatan station), forming the TBS-BTS transport Hub, with transport options to go to every part of Kuala Lumpur. Due to its convenient location and distance from any place, tourists can quickly go to any place from here. 
Highlights:
Petronas Towers- is a beautiful building with modern Islamic design and a fabulous Sky Bridge.

Menara KL Towers- is the famous landmark of Kuala Lumpur known for its beautiful architecture and spectacular views of the Kuala Lumpur city.

China Town- is the perfect place for shopping or eating local cuisine. The area is known for its diverse shopping options at bargain prices.

Batu Caves- are the popular limestone caves with scenic Hindu temples and shrines. The huge deity statue in the caves is a major draw for tourists.

Sultan Abdul Samad Building- is a historical building famous for its 1-ton bell in the large clock tower. The colonial building was once the secretariat of British administration. 
Note – There is a revolving restaurant in the Menara KL Towers. The restaurant is famous for the scenic views of the city and food.
Traveling anywhere in Malaysia from Kuala Lumpur becomes very convenient with the help of redBus. You can travel anywhere in Malaysia easily by booking a TBS online ticket. No matter where you want to go, instantly book your Terminal Bersepadu Selatan online bus ticket and seat from the ease of your mobile phone via redBus app. Choose the best convenient timings, bus type, and boarding points from hundreds of bus operators working around the country.
You would also like to read the ultimate guide to Penang Sentral !