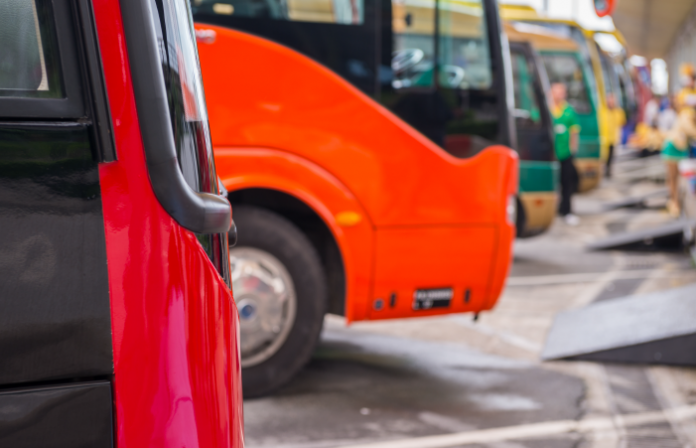 The beautiful country of Malaysia is known for its scenic beauty and diverse attractions. The bubbly culturally diverse country is a tourist favorite for its plethora of attractions, gastronomically delights, and colorful festivals. The county is divided by the South China Sea into Peninsular Malaysia with 11 states and two federal territories (Kuala Lumpur and Putrajaya), East Malaysia with two states, and the third Federal territory (Labuan Island). All of these can be explored best with the help of redBus Malaysia.  
Like its diverse culture, the geography of Malaysia is also extremely diverse. In Malaysia, one can find modern skyscrapers in the vicinity of wooden houses or five-star hotels nearby ancient reefs and cool highland hideaways with sandy beaches and humid mangroves. Malaysia is the perfect place for a holiday full of surprises and enjoyment. redBus Malaysia will tell you why bus travel is one of the best to discover Malaysia's precious gems!
Transport in Malaysia
Malaysia, despite having a diverse geography, has an evolved transport system. Getting around in the country is equally easy for tourists and the locals. The country has various efficient and convenient modes of travel –road, air, and rail. Malaysia has an excellent transport system with even remotest of the villages connected with the cities by at least one mode of transport. Kuala Lumpur is the central transport hub of Malaysia and is connected to most of the cities and villages.
The Malaysian transport system covers approximately 63,445 km, which includes 1630 km of expressways. The main highway of Malaysia, which is 800 km, connects the Thai border and Singapore border. The transport system of Peninsular Malaysia is comparatively more developed than the transport system of East Malaysia. Though most of the major cities are easily accessible by air travel or rails the road transport connects and reaches the even remotest of the areas in Malaysia.  
Bus Transport in Malaysia
Traveling by bus is the cheapest and most convenient way to travel in Malaysia. The bus network is extensive in the country and within the cities too. Interstate connecting buses have fixed ticket prices depending on the type of bus. The bus ticket within the city buses, too, varies according to the nature of the bus. It is also according to the distance traveled. There are several bus stations in the large cities or towns, and mostly the local bus station and long-distance bus stations are different. In smaller towns or villages, there is no differentiation. In bigger cities such as Kuala Lumpur, bus stations differentiate according to the destination they serve.
Why Bus Travel in Malaysia?
Malaysia is well connected via road, so traveling by bus anywhere is easy. Also, bus travel is the cheapest mode for transportations within the city or between cities. Malaysia is a beautiful country with diverse natural beauty. The best way to enjoy the scenery of the way is by road travel. So for tourists or locals traveling who want to enjoy the view, traveling by bus is the best choice. Even within the city, one prefers to travel by bus as it's the cheapest option and has the best connectivity. Traveling by car or taxi is expensive, and rails don't go to every place. 
Earlier bus travel was not as comfortable as the types of buses were limited. In the current scenario, there are many types of buses operating within the city and in-between the cities. The bus companies now have modernized and latest buses as per the demands and requirements of the passengers. The buses range from non-air-conditioned to air-conditioned, general to luxury, and seating to sleeper buses. 
The buses plying within the city are generally non-air-conditioned, air-conditioned and luxury types. The category of buses operating on long routes or out-bound is vast. They range from standard to luxury, air-conditioned, super-luxury, Volvo, superfast, economical, executive, etc. The facilities provided in these buses range from basic ones in the general or standard buses to luxury buses with pillows & blankets, reclining seats, toilets, LED TVs, air-conditioners, mobile/laptop charging points, music, and food services. 
One can choose the type of bus according to their comfort desired to their affordability. Also, the convenience of taking a bus in case of sudden travel makes them the best way to travel. For trains or planes, one needs to wait according to their timings, and sometimes there is no flight or train on every day to a particular place. But there is always a bus almost every day and everywhere. 
Top Bus Routes
The bus network is extensive in Malaysia. There are buses between all major cities and from major cities to all popular tourist locations and smaller cities, towns, and villages. With an extensive bus network across the country, traveling by bus is the most convenient and cost-effective method to travel. Some of the most popular routes are:
Travel tips – redBus Malaysia is perfect for inquiring, checking, or booking bus tickets for any place in Malaysia. 
Places to see in Malaysia
The beautiful country of Malaysia is full of fabulous cities and attractive places. One is always spoilt for choices in Malaysia. Here are the top cities and their not to be missed attractions:
Kuala Lumpur

Petronas Towers

Menara KL Towers

China Town

Batu Caves

Sultan Abdul Samad Building

Genting highlands

Skytropolis Funland

Awana Horse Ranch

Butterfly Wonderland

Chin Swee Cave temples

Ipoh

Kellie's Castle

Perak Cave Temple

Sam Poh Tong

Johor Bahru

Legoland

Sultan Abu Baker Mosque

Old Temple of Johor Bahru/Chinese Temple

Pulai Waterfall 
Traveling in and around Malaysia becomes very convenient and affordable with the help of redBus Malaysia. You can travel anywhere in Malaysia easily by booking redBus Malaysia bus tickets online. No matter where you want to go, instantly book your redBus Malaysia bus ticket and seat from the ease of your mobile phone. Choose the best convenient timings, bus type, and boarding points from hundreds of bus operators working around the country.