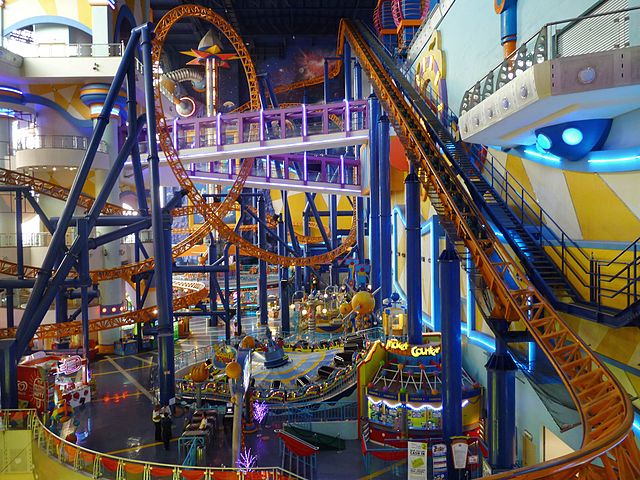 Incorporated in 2003, Berjaya Times Square is one of the biggest shopping malls in the world. It was built by the Berjaya Assets Berhad group. Besides providing the best shopping experience to visitors, it offers various entertainment activities. Over 2 million people visit Berjaya Time Square monthly from multiple parts of the world. It consists of more than 1000 shops such as entertainment, fashion, knick-knacks, beauty, etc.
Berjaya Times Square is well-connected by road in Kuala Lumpur (KL). Located in Jalan Imbi (KL), this lavish mall is built in the postmodernism style. 
Functional Details 
The Berjaya Times Square opening hours are from 10 AM to 10 PM daily. Their office is open from 9 AM to 6 PM (Monday to Friday) and is situated on the 8th level. For general enquiries related to the shopping mall, you can get in touch with them. They also have a robust online presence on various social media sites.
Berjaya Times Square Theme Park
The Berjaya Times Square Theme Park is the largest indoor theme park in Malaysia (133,000 square feet). It has 14 reimagined rides for people of all ages. This park is built across different levels of the mall. 
One of the most famous stories of this indoor theme park is the fifth level. This level comprises the Galaxy Station, consisting of six adventurous rides for people of every age. These rides are the Supersonic Odyssey, DNA Mixer, Space Attack, Spinning Orbit, Dizzy Izzy, and Ooort's Express.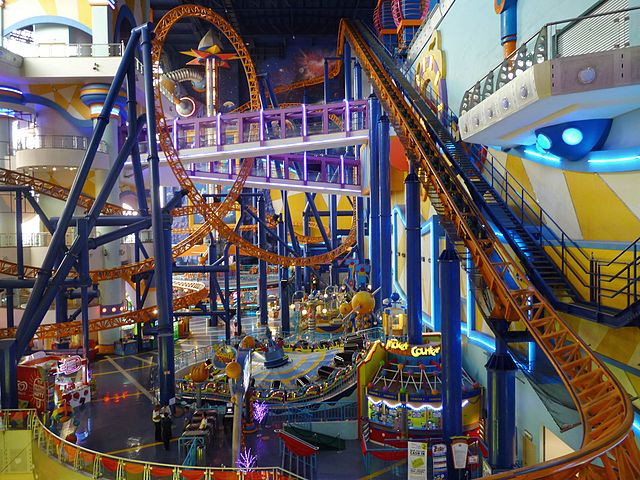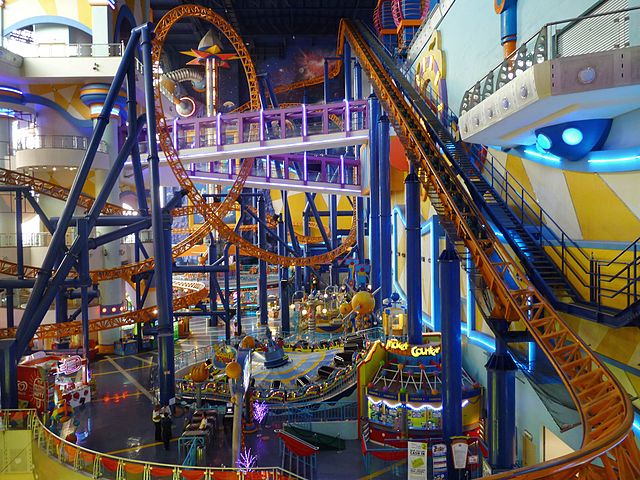 The eighth level of this indoor theme park, known as Fantasy Garden, consists rest of the adventurous rides. The eight rides available in the Fantasy Garden are Botanic Drive, Flying Bumble Bee, Fantasy Trail, Buddy-Go-Round, Robo Crash, Crazy Bus, Honey Bump, and Molly-Cool's Swing. 
For MyKad (Malaysian Identity Card) holders, the Berjaya Times Square Theme Park price is RM 55 (for adults) and RM 45 (for children of 3-12 years). In case of senior citizens (55 years and above) with a MyKad, the entry price is RM 20. For foreigners or visitors who do not have a MyKad, the ticket price is RM 70 (RM 65 for children and RM 30 for senior citizens).
The park is divided into various themed zones with lots of entertainment activities. Apart from the vast theme park, the mall also consists of a 48-lane bowling alley named 'Ampang Superbowl'.
Berjaya Times Square Hotel
Yes, you have read it right. There is a hotel inside this enormous mall. The Berjaya Times Square Hotel is built in Georgian-style, consisting of sash windows. Besides the necessary accommodation facilities, this hotel also offers a fitness centre, playground, restaurant, ballroom, two squash courts, etc. It also consists of 4 F&B shops and 11 function rooms for ceremonies/shopping.
Offerings & Happenings 
Many events take place at once in this all-in-one square. Some of the other facilities offered by the Berjaya Times Square are:
This mall offers ample parking space with regular monitoring via CCTV cameras. You can also pay the parking charge via debit/credit card. 'Touch 'n Go Malaysia', a cashless card system, will be implemented soon here.
There is an interactive dance floor in the mall for dance lovers.
Visitors have access to high-speed free Wi-fi for free inside the mall.
Special deals and offers are provided to shoppers from time to time. One can connect to them on social media platforms or visit their website regularly to know more about the latest offers/deals.
The presence of various eateries inside the mall makes it convenient for visitors.
You can also find art galleries and spas inside.
Bank outlets and ATMs are also present in this gigantic shopping mall.
You can also watch movies in the cinema halls located inside the mall.
How to reach Berjaya Times Square?
You can easily travel to Berjaya Times Square by bus. Malaysia has a well-connected bus transportation system. You can book bus tickets online to the mall using the redBus mobile application/website. 
redBus is one of the most trusted online bus ticket providers in the world. You can compare the buses offered by various bus operators in Malaysia before booking a bus to the Berjaya Times Square. Some of the popular bus operators in Malaysia are StarMart Express, The One Travel & Tours, Transtar Travel, Five Star Tours, etc. The mall is also connected to many bus stops in Kuala Lumpur like TBS (Terminal Bersepadu Selatan), KL Sentral, etc. You can also find buses to Berjaya Times Square from Singapore on redBus.
Some of the prominent locations from where buses arrive at the Berjaya Times Square are Golden Mile Complex (Singapore), City Plaza, Boon Lay, Gelang Patah, etc. 
In a Nutshell 
Berjaya Times Square is a great place for enjoyment, shopping, and dining. You can book affordable bus tickets to the Berjaya Times Square via the redBus mobile application or website. Online bus booking will help you avoid the physical ticket booking counters, thus keeping you safe from the recent COVID pandemic. 
Plan a trip to the Berjaya Times Square today!
Liked it? You may also be interested in reading – Most Photogenic Places in Malaysia