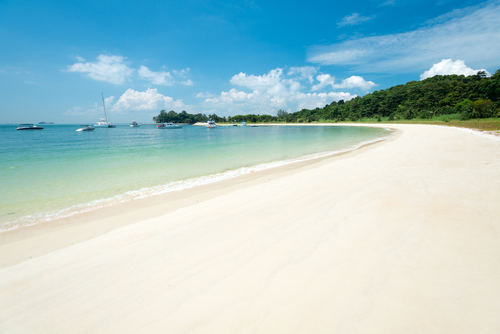 Lazarus Island is a Singaporean island located south of the country's main island. It is known as Pulau Sakijang Pelepah locally, which translates to 'Island of One Barking Deer and Palms'.
The Island is currently uninhabited, and many tourists visit the place for its unspoiled natural landscapes. It is one of the best natural islands in Singapore, famous for its serenity and cleanliness. The clean and unspoiled beaches of this island attract a lot of tourists. It is located just 450 metres away from St. John's Island, i.e. around 10 minutes walk. Even though it is uninhabited, various social amenities present here facilitates the tourists coming from different countries.
It can be accessed via a ferry or boat. Sindo Ferry provides affordable ferry services to Lazarus Island. Ferry tickets are available online on the redBus website or mobile application.
What to do at Lazarus Island?
Not many people know about Lazarus Island, which explains its clean and serene beaches. It is open all day for tourists. Many adventure buffs travel to the Island for water activities.
Some of the best things to do while on Lazarus Island are –
Peaceful Picnic Spot – The Island offers a sense of tranquility. A picnic on this island with friends or family is very refreshing. Many photographers also visit this place for the lush green landscapes.
Meet the Cats – There are a lot of cats in this Island. While you are here, don't forget to meet the famous one-eyed cat, also referred to as the 'Pirate Cat'.
Go on a Yacht Ride – You can discover the beautiful shoreline of the Island through a yacht ride. Many tour operators in Singapore will offer you a boat to the Island or a yacht ride around it. The yacht fares in Singapore range from SGD 1900 – 3300.
Visit St. John's Island – St. John's Island is located at a 10-minute walking distance from Lazarus Island. Generally, ferries drop off passengers at St. John's Island. Make sure you visit various attractions of the Island before going to Lazarus Island. The most-visited attractions of this Island are National Marine Laboratory, the immigrant site, St. John's Island beaches, etc.
Visit Pulau Seringat – This is another exotic island situated within walking distance from this Island. It is also unspoiled and uninhabited. Pulau Seringat is famous for its exotic beach locations.
Snorkeling – You can do snorkeling near Lazarus Island in the crystal-clear ocean water. The colourful coral reefs on the shoreline is a treat to the eyes. You can also have fun diving into the sea from the Island's coast.
Walk along the Coast – Go for a walk along the beautiful coast of the Island to discover it's natural beauty. You can also fly kites on this undisturbed island full of scenic landscapes. If you opt for swimming, then try to swim towards the eastern beach of Lazarus Island as it is comparatively safe and convenient.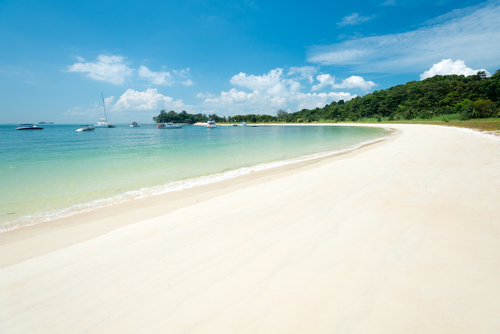 How to Get to Lazarus Island?
Sindo Ferry provides trips to Lazarus Island at flexible timings from the Harbourfront Centre in Singapore. Located in the Maritime Square region of Singapore, Harbourfront Centre is a major ferry terminal in Singapore. You will frequent public transportation services from various locations of Singapore to the Harbourfront Centre. Parking spaces are also available at the Harbourfront Centre to aid the passengers. The trips provided by Sindo Ferry to Lazarus Island from Harbourfront Centre are as follows:
Singapore Sunset Voyage – This tour is only available on Saturdays and Sundays from the Harbourfront Centre. The price of this trip starts at SGD 35. You depart from the Harbourfront Centre via ferry at 12:30 PM and reach ST. John's Island at 1:15 PM. You can walk to Lazarus Island and can enjoy it until 5:30 PM. The ferry will then move to Kusu Island.
Singapore Discovery Journey – This trip is available on all days from the Harbourfront Centre. A ferry departs from Harbourfront Centre at 9 AM and drops passengers off at St. John's Island (via Marina) at 10:15 AM. You can visit various attractions of St. John's Island and Lazarus Island, which are adjacent to each other, until 1:30 PM. The ferry will then depart for Kusu Island at 1:45 PM.
You can avail Lazarus Island ferry services right at your fingertips via the redBus mobile application or website. If you are exhausted from crowded places, visit this Island to enjoy a peaceful time. The clean and serene Lazarus Island beaches will provide you with a lifetime experience.
Liked this article? You may also be interested in reading 'Explore St. John's Island with Sindo Ferry'