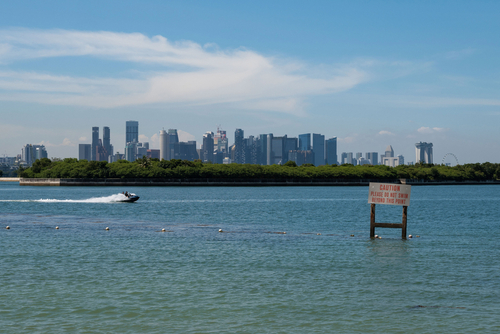 St John's Island, also referred to as Saint John Island or Pulau Sekijang Bendera, is an exquisite island located near the main island of Singapore. It is also the largest island among the Southern Islands in the country. Initially used as a cholera quarantine centre in the 1890s and a rehabilitation centre in 1955, this 40-hectare Island became a tourist spot in 1975. 
The natural beauty of St. John's Islands has always been breath-taking. The construction of picnic spots, resorts, modern beaches, lagoons, etc., in 1975 started attracting many tourists from all over the world. 
You can reach here by ferry from Singapore's main island. Sindo Ferry, a leading ferry operator, provides ferry services to St John's Island. You can purchase Sindo Ferry tickets from the redBus website/mobile application.
About Sindo Ferry 
Sindo Ferry is the leading ferry operator in Southeast Asia and has been providing ferry services since 2011. They offer many routes to/from various Singapore and Indonesian islands. The acquisition of PFS (Penguin Ferry Services) in 2011 made way for the incorporation of Sindo Ferry. Since then, Sindo Ferry has utilised the 39 years of experience brought by PFS and its conveyance network to provide ferry services to people. 
Sindo Ferry is part of a group of regional companies with tremendous experience in the transportation and hospitality management sector in Southeast Asia. At present, it has a well-maintained fleet of 16 ferries. 
What to do at St. John's Island?
St. John's Island is a beautiful place that offers an escape from the crowds. The presence of various social amenities on this Island makes the stay very comfortable. You should try the following when you are at St. John's Island – 
Stay at Holiday Bungalows or Camps – You can book a holiday bungalow that accommodates up to 10 people or camps/dormitories which can occupy more people. Vacationing at St. John's Island with your friends and family is convenient as there are many accommodation facilities on the Island.
Visit the Immigrant Site – History buffs can visit the illegal immigrant site, which was built around 1930. The remains of this site are still present on St. John's Island.
Walk to Lazarus Island – Lazarus Island is situated at walking distance from St. John's Island. Here, you can enjoy walking on the paved bridge and visit various beaches and lagoons. Various social amenities are also present on Lazarus Island to aid the tourists.
Go on a Yacht Ride – You can charter a private yacht to travel around the shoreline of St. John's Island. Many tour operators in Singapore will provide you with a private yacht.
Visit Pulau Seringat – This Island is also situated at walking distance from Lazarus Island. It is undeveloped, but its natural charm remains unspoiled.
Visit the National Marine Laboratory – This marine research facility at St. John's Island conducts educational visits and guided tours to visitors. You will have to get in touch with them for any educational visit. There is also an Agri-Food & Veterinary Authority (AVA) situated on St John's Island.
Go on a Nature Walk – You can walk along the unspoiled coast of St. John's Island and also engage in fishing. St. John's Island is a great picnic spot and a hidden gem of Singapore. 
Snorkelling on the Beach – You can snorkel in the crystal-clear water of St. Johns Island. Those who cannot swim can also enjoy the coast, which has knee-length waters. The beautiful coral reefs in the waters of the Island are an eye-catching view.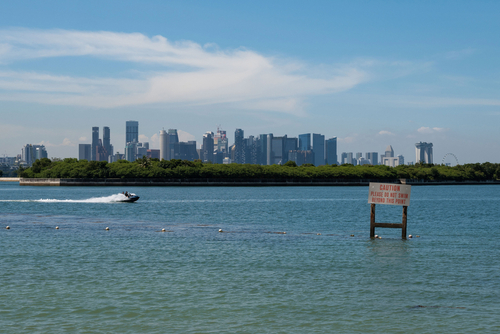 How to get to St. John's Island?
Sindo Ferry will provide you with a ferry to St. John's Island at affordable rates. The operator provides ferry services to St. John's Island from Harbourfront Centre, an important ferry terminal in Singapore. There are many parking spaces and eateries at Harbourfront Centre for passengers. 
Sindo Ferry will also provide you with luggage accommodation facilities onboard. You can easily book Sindo ferry tickets to St John's Island using the redBus mobile application or website. You can compare timings, amenities, etc., while booking ferry tickets online on redBus.
Sindo Ferry offers two types of ferry trips to St John's Island, which are as follows:
Singapore Discovery Journey – Here, a ferry departs from Harbourfront Centre to St. John's Island at 9 AM daily. It arrives at the Island by 10:15 AM. Singapore Discovery Journey will also take you to many other locations beside St. John's Island like Marina, Kusu Island, etc.
Singapore Sunset Voyage – Here, a ferry departs from Harbourfront Centre to St. John's Island at 12:30 PM only on Saturdays and Sundays. You will arrive at St. John's Island at 1:15 PM. The travel duration is approximately 45 minutes.
St. John's Island has a rich history with beautiful natural landscapes. A lot of tourists from various Southeast Asian and other countries travel to this Island. 
Sindo Ferry also has implemented strict safety measures on its ferries due to the recent COVID pandemic. It regularly conducts temperature checks of its employees and provides sanitized ferries to various routes. You can book Sindo Ferry tickets via redBus in advance and can plan your trip accordingly. 
Buy some time off from your busy life to experience some moments of tranquility at St. John's Island. Plan a trip and book ferry tickets now!
You may be interested in reading – Travelling From Singapore to Bintan Island by Ferry