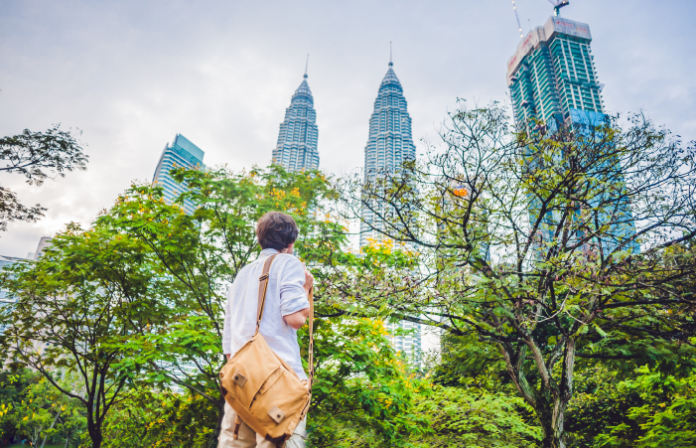 Indian tourists looking out for an enchanting holiday in Malaysia have some welcome news. You can enjoy a 15-day free entry into the country without a Malaysian Visa. This offer of waiver of Malaysia Visa for Indians is valid throughout the year 2020. To avail Malaysia e Visa facility, all you need to do is to register yourselves in the electronic travel information and registration system, eNTRI. You can present the confirmation note issued during registration upon arrival in the country for a Malaysia visa-free entry.
Must read: 8 Things to Know while Traveling to Malaysia
Getting to Malaysia
Traveling from India, you can fly into Malaysia via its capital and the biggest city, Kuala Lumpur, or Kota Bahru, or George Town, Penang, for entry under a waiver of Malaysia Visa for Indians. The airports are well connected to the city by buses, taxis, and even metro.
You can relax and enjoy by booking online in advance to avail of airport transfer facilities from redBus Malaysia portal to travel from the airport to the hotel and back as per your requirements.
Culture and Festivals
Malaysia is a multi-ethnic society with a friendly environment and pleasant people wherever you visit. Even though this is a Muslim majority country, you can find Indians, Chinese, and Buddhists in large numbers, each maintaining their religious identities and celebrating their festivals with all-round participation. These are some of the famous festivals you can look forward to while choosing the time to visit under a waiver of Malaysia Visa for Indians:
Thaipusam, a festival of Hindus in January.
Chinese New Year in Jan/Feb.
Malaysian water festival in April.
Harvest festivals in May, June, and August are big draws.
The Rainforest world music festival in Borneo in July and the Dragon Boat Festival in Penang are hugely popular.
Hari Raya Haji, which is similar to Eid, celebrated with great enthusiasm.
Popular and Colorful Deepawali, Christmas, and New Year celebrations towards the year-end celebrated with wide participation.
Get Around by booking bus tickets online in Malaysia
You can enjoy traveling in the excellent transportation network in the country when you enter Malaysia under the waiver scheme of Malaysia e-Visa for Indians. This is true for both intracity and intercity travel. You can travel by airlines, trains, and tourist taxis. However, travel within Malaysia by bus is easy, comfortable, and inexpensive, with the availability of buses at high frequency at any destination. A vast network of bus routes, top-class inter-state highways covering large parts of the country make bus travel in Malaysia a breeze.
A great countrywide network of bus routes gives you enormous flexibility while traveling in the country during the 15-day visit under the waiver scheme of Malaysian Visa for Indians.
Redbus Malaysia runs more than 800 routes across Malaysia and Singapore. It brings together more than 80 coach companies on one single online platform for the public and visitors giving them an enormous choice. You can safely rely on Redbus Malaysia for a comfortable journey in air-conditioned coaches, which run between all major cities. Some of the popular tourist destination routes are:
Kuala Lumpur to Johor Bahru
Kuala Lumpur to Malacca
Kuala Lumpur to Kuantan
Kuala Lumpur to Penang
Kuala Lumpur to Ipoh
redBus Malaysia routes similarly connect various locations in all these major tourist attraction cities with each other. You can book bus tickets online in Malaysia for a hassle-free journey from redBus app or website. Reservation message on your mobile is sufficient for a bus ride. If you need some flexibility in dates, look out a rescheduling icon before booking a coach company.
Places to Visit
Kuala Lumpur. The biggest city offers you plenty of fascinating attractions like the Petronas Towers, Perdana Lake Gardens, and many more, along with a great shopping experience.
George Town, Penang for a view of the wonderful architecture and its famous street food treats.
Malacca City, a world heritage site for its cultural, historical, and imposing colonial structures
Ipoh for colonial structures, magnificent Hindu and Buddhist cave temples
Johor Bahru for the famous Legoland theme park among other popular attractions
Danum Valley, Sabah. You can get a feel of the pristine forests with incredible biodiversity.
Cuisine
China and India on the Malaysia Visa Free Countries list, visitors from here can hope for a gastronomic delight with the large variety of cuisines available here. The local Malay cuisine along with a variety of Indian, Chinese, and other international dishes are extremely popular here. You can enjoy the delicacies available from safe food streets to top-end restaurants, depending on your taste and budget.
You can grab this opportunity to plan a visit to this beautiful country under the waiver of Malaysian e Visa for Indians. Partner with redBus Malaysia for a memorable visit with family or friends under the Malaysian Visa-free countries scheme during the year 2020!