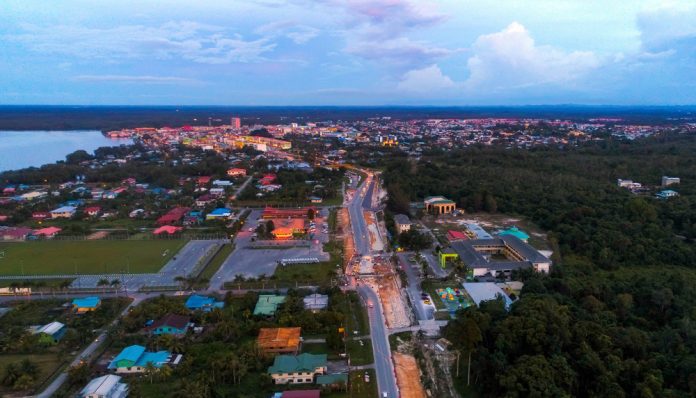 Sarikei is a small town in Sarawak, Malaysia, situated on the Rajang River. Even though it is not a very popular tourist spot, it sees a regular flow of tourists throughout the year. What makes this place famous is the annual Pineapple Festival which takes place in November. Pineapple is an iconic fruit of Sarawak and is found in abundance in this whole area.
Sarikei has a lot to offer in the form of human-made structures, trekking and other activities that will bring you closer to nature. You can get to this place easily by bus.
Top 5 places of interest in Sarikei
Sarikei town is close to where the Rajang River opens out into the South China Sea. It is connected to parts of Borneo Island through land and water. With hardly over 900 sq kilometres, this is a wonderful place blessed with natural geographic beauty, architecture, and waterfront areas.
Here are the top 5 interesting places and things to do while visiting Sarikei –
As the name suggests, this is a longhouse that serves as one of the best homestays in the region. It is just 30 mins away from the town and can house up to 300 people at a time. They offer airport pick up and drop off and comes with an array of amenities inside the facility. Visitors can indulge in trekking, fishing, and other activities to pass their time during their stay. The best time for a visit here would be during the Gawai festival in June.
As Sarikei is close to the river, you will find various cruise options. The Rajang River is the longest in Sarawak, which makes for a decent cruise journey. One can enjoy the setting sun and watch birds. There are plenty of bird species to spot in the surrounding areas. There also are protected species of fishes and crocodiles in this water body. However, these are short cruises with no accommodation facility onboard. The cruise trip is available only from 6 pm to 10 pm.
The Pineapple Statue is an iconic structure in Sarikei. This large statue of the fruit is located right outside the Sarikei Express Terminal at the Wharf. The larger than life realistic sculpture makes an excellent spot for shutterbugs and Instagrammers to get some amazing pictures.
If you are looking for the perfect place to get the goodies at cheaper or reasonable rates, you should head to the Sarikei Central Market. Here you will find anything and everything. One can even bargain to get the best price. The market opens at 7 am and stays busy till 1 pm. You will find stalls for fruits, vegetables, crafts, and other handmade items, among other things, in this place.
It is an interesting place for kids. It is a supermarket that sells Doremon merchandise. Here, you can find grocery items as well. It is the best place for children to get items wrapped in fancy papers or as Doremon Hampers. The shop is open on all days from 10 am to 10 pm.
How to reach Sarikei?
You can land at the Sarawak, Kuching or Bintulu airport and take a bus to Sarikei from there. From there, you can board a bus. Terminal Bas Sarikei or Sarikei Bus Terminal is the connecting point for land transport. Buses from Sibu, Serian, Betong, Saratok, Lachau, Batu Langtang, etc., operate to this bus terminal.
You can take a bus from Kuching to Sarikei, which will take an hour to complete the journey. Sibu to Sarikei is also an hour-long trip with four daily bus services. Serian to Sarikei is one of the popular routes with six daily buses, which usually takes 4-5 hours of travel.
You may be interested in reading – A Backpacker's Guide to Kuching
Which Bus to Board?
Some popular bus operators travel to this part of Malaysia, like Bus Asia Biaramas and Sungei Merah. When you book bus tickets online on redBus, you can compare the different buses available to Sarikei based on time, duration, amenities, reviews, price, etc.
How to book the bus tickets?
The best option is to book your bus tickets online. You can do so on redBus. On this platform, you can find the best and safest buses for your route. The process to book is easy and will take just a few clicks. You can book the online bus tickets at any time. redBus accepts online payments, so you don't have to worry about carrying cash to a counter and waiting in queue to get a bus ticket.
Sarikei is a farm-based region with plenty of farmers who cultivate fruits such as pineapple, watermelon etc. The town is known as the Fruit Basket of Malaysia. Whether you love pineapple or not, visiting here during the Pineapple festival will allow you to taste different types of this fruit. So, plan and book your online bus tickets to Sarkei.