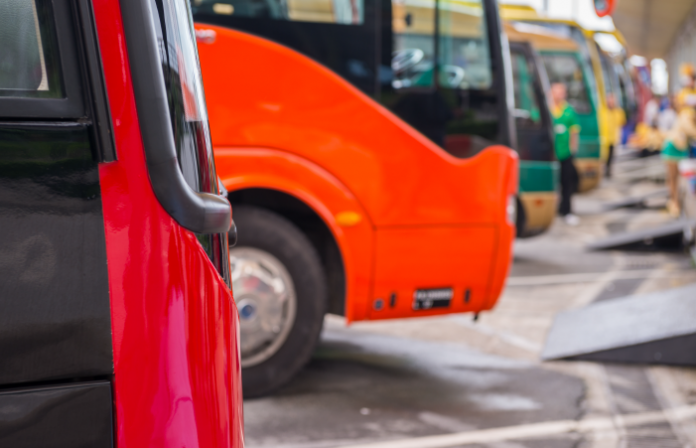 Traveling by bus is the most convenient and one of the most affordable options in Malaysia. Whether it's Kuala Lumpur, Malacca, Penang, or Kota Kinabalu, you can travel from one city of Malaysia to another by bus in the most comfortable manner. Among locals and tourists alike, bus travel in Malaysia is, indeed, a popular mode of transportation. There are several bus terminals in Malaysia that thousands of passengers use as their bus boarding and dropping points. Almost all the bus terminals in Malaysia are equipped with state-of-the-art facilities, a number of restaurants, ATMs, and resting areas in and around. Let's take a closer look at some of the most popular bus terminals in Malaysia!
Kuala Lumpur
There are several bus terminals in the capital city of Malaysia – Kuala Lumpur, however, the following four are the most popular ones:
Puduraya Bus Terminal (PUDU SENTRAL)
Situated in Jalan Pudu, close to Petaling Street, Puduraya Bus Terminal, also known as Pudu Sentral, is the central bus station in Kuala Lumpur. The bus terminal serves as the primary boarding and drop-off point for a large number of passengers traveling to different destinations in Malaysia. Pudu Sentral is at a walking distance from KL Chinatown, and the nearest train station here is LRT station.
Address: Jalan Pudu, Kuala Lumpur, Wilayah Persekutuan Kuala Lumpur
Terminal Bersepadu Selatan (TBS)
Terminal Bersepadu Selatan, popularly known by its abbreviation TBS, is one of the major bus terminals in Kuala Lumpur that is situated near Bandar Tasik Selatan. If you're traveling to the southern and south-eastern parts of Malaysia, such as Kelantan, Johor, Melaka, and Terengganu from KL, you're likely to catch your bus from this bus terminal in Malaysia.
Address: Bandar Tasik Selatan TBS link bridge, Bandar Tasek Selatan, 57100 Kuala Lumpur
Hentian Putra
One of the newly built bus terminals in Malaysia, Hentian Putra was renovated after the TBS bus terminal that serves southern destinations in Malaysia and the Puduraya bus terminal that serves the northern destinations in Malaysia.
Address: Jalan Putra, Chow Kit, 50350 Kuala Lumpur
Duta Bus Terminal (Hentian Duta)
Hentian Duta Bus Terminal is one of the most popular bus terminals in Kuala Lumpur. You are likely to find Duta Bus Terminal as the first stop when one is traveling from the northern states in Malaysia. A large number of buses travel from Duta Bus Terminal on an everyday basis.
Address: Mezzanine Floor Bangunan Hentian Duta Jalan, Persiaran Tuanku Syed Sirajuddin, Kuala Lumpur
Apart from Kuala Lumpur, several other bus terminals in Malaysia are popular among the tourists and locals:
Putrajaya – Putrajaya Sentral Bus Terminal
Putrajaya Sentral serves as a major transportation hub for the locals and travelers in Putrajaya. Bus companies like Nadi Putra and Rapid KL use Putrajaya terminals as the main transportation hub in Malaysia. Bus operators like Transnasional and Plusliner also offer their long distant buses from Putrajaya Terminal to selected towns and cities such as Kuantan, Kota Bharu, Kuala Terengganu, Johor Bahru, Melaka, Ipoh, Alor Setar, and Penang.
Address: Lebuh Perdana Barat, Presint 7, 63000 Putrajaya, Wilayah Persekutuan Putrajaya.
Genting Highlands
There is only one bus terminal in Genting Highlands, which is called Mushroom Farm Bus Terminal. The terminal is located close to the First World Hotel and Mushroom Farm restaurant, where the passengers can have fun at the casino, theme park and hotel. Many express bus operators offer their bus services from Genting Highlands to Singapore and various parts within Malaysia.
Address: 69000 Genting Highlands, Pahang
Johor
The Larkin Transport Bus & Taxi Terminal Complex is one of the largest public transportation terminals in Johor Bahru. Located in the town of Larkin, 4 kilometers away from the Johor City center, this terminal acts as the pick-up point from Johor Bahru to other parts of Peninsular Malaysia, as well as to Singapore. The terminal also provides facilities such as a bank, food stalls are located in the terminal building, and one of the best ways to get there is by taxis and intercity buses.
Address: Kompleks Pengangkutan Awam Larkin, Ta11 Jalan Garuda, 80350 Johor Bahru
Kedah
Also known as Sahab Perdana express bus terminal is one of the central bus terminals of Alor Setar that is located in Shahab Perdana, somewhere close to Alor Setar town center. This terminal provides services to and from most locations in Malaysia, and one of the best ways to get there is by intercity bus or taxis.
Address: Jalan Sultanah Sambungan, Shahab Perdana, 05350 Alor Setar, Kedah
Kelantan
In Kota Bharu, Kelantan – two bus stations hold Xpress buses for daily departures and arrivals. One of them is the Jalan Hamzah Bus Terminal, which is located next to the KB Mall in Kota Bharu, and the second one is SKMK Langgar Bus Terminal located at Jalan Bulatan Yahya Petra behind Tesco Kota Bharu.
Address: Jalan Bulatan Yahya Petra, Kampung Wakaf Siku, 15000 Kota Bharu, Kelantan.
You may also like to read: TBS- How this terminal has raised the bar!
Plan your next trip with redBus for an easy commute from the airport to your places of interest and avail great discounts and amazing offers!