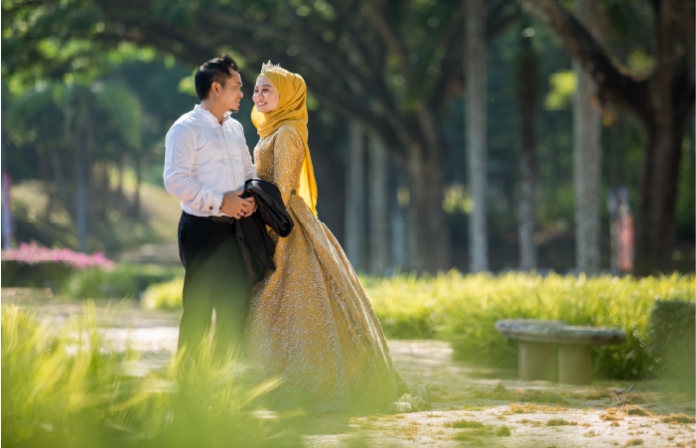 A wedding is a once-in-a-lifetime experience. Being able to enjoy a wedding at an exotic location is always fun, and one of the best places to do it is Malaysia. Surrounded by natural beauty, Malaysia is the perfect place for a destination wedding and promises to bring with it plenty of thrills.
The country is home to some beautiful resorts that offer their services for couples who are looking for the perfect wedding venue. We've listed down some of the best for you to get in touch with and start planning right away!
You may like: The most romantic places in Malaysia
Berjaya Tioman Resort –
If you want to have an intimate and classic wedding with beautiful and scenic views, Berjaya is an amazing option. It is surrounded by blue waters and white sandy beaches, giving you the perfect backdrop for a luxurious and memorable time with your friends and family.
They also have wedding experts to help guide the entire function along and ensure that everything is taken care of.
Address – Berjaya Tioman Resort
86807 Mersing, Johor, Malaysia
Highlights – Western setup, a bottle of wine for the groom and bride, bridal bouquet, corsage for the groom, wedding planner, and ocean backdrop
Package Details – Available on enquiry
The Taaras Beach and Spa resort –
Considered one of the most beautiful island resorts in the country, The Taaras Beach and Spa Resort offers a non-religious ceremony and is one of the best destination wedding places in Malaysia. They also have an island pastor to take care of the ceremony, with the vows spoken in English.
The beautiful backdrop and the lovely arrangements definitely make for a magical time, and you're sure to talk about it for years together.
Address – The Taaras Beach & Spa Resort
20928 Kuala Terengganu, Terengganu, Malaysia
Highlights – Bridal bouquet, backdrop, cocktail feast, and more
Package Details – The hotel offers its flight packages to Redang Island and makes it more accessible.
Gem Island Resort and Spa –
The Gem Island Resort and Spa is an island that is privately owned in Malaysia. Located within a marine conservation park, the "wedding hall" is the entire beach, and there have been numerous superstars and celebrities who have enjoyed staying here.
The Resort comes with stunning views of the sunrise and sunset during the wedding ceremony, and you'll also be able to enjoy the many benefits that come with the resort.
Address – Gem Island Resort Spa
Lot 2804, Pulau Gemia, Mukim Rusila, Daerah Marang Terengganu, 21600 Kuala Terengganu, Terengganu Darul Iman, Malaysia
Highlights – Turtle spotting, marine park exploring, cocktails and more
Package Details – Available on inquiry
The Datai Langkawi –
If you're looking for a nice garden wedding package, look no further than The Datai Langkawi. It is renowned for its beautiful beaches and surrounding greenery, you'll be able to organize an unforgettable wedding for sure.
The resort helps you reconnect with nature and have your perfect escape. You can indulge in modern and simple pleasures and also personalize the celebration according to your wish. You can also choose between a wedding of your own style or a traditional Malay wedding, and they'll be able to provide you with the same.
Address – The Datai Langkawi
Jalan Teluk Datai, 07000 Langkawi, Kedah, Malaysia
Highlights – Green backdrop and lavish villas, rainforest tours and more.
Package Details – Available on request
Tanjung Rhu Resort –
Another brilliant destination wedding location is the Tanjung Rhu Resort. You can experience some of the best accommodation that your guests will well and truly appreciate as well. There are also massage spas and more available for those interested.
The amazing backdrop of the ocean is sure to have you in a relaxed mood during your wedding and is also the perfect spot for an incredible cocktail party with your loved ones, with a splendid view of the sunset.
Address – Tanjung Rhu Resort
Mukim Ayer Hangat 07000, Pulau Langkawi, Kedah Darulaman, Malaysia
Highlights – Beach accommodation, backdrop, cocktails.
Package Details – Patrons can choose their favored wedding themes – Eternity Knot for Chinese weddings, Puteri-Putera for Malay weddings, Blue Heaven for Western Weddings, or Sutra for Indian weddings
Four Seasons –
One of the most lavish and memorable weddings you can have with your loved ones is at the Four Seasons Hotel in Malaysia. This incredible hotel allows you to enjoy the wedding amid the backdrop of the beautiful sea and white sands.
Located in Langkawi, there are many adventurous activities to indulge in as well for anyone looking to opt for their packages.
Address – Four Seasons Hotels and Resorts
Jalan Tanjung Rhu, 07000 Langkawi, Kedah, Malaysia
Highlights – Daily yoga programs, windsurfing, bicycle rides, kayaking, and beach games, etc.
With redBus, you'll be able to gain access to some of the most wonderful destination weddings in Malaysia and prepare yourself well in time. These wedding venues are accessible by buses, and you'll be able to catch them from the nearest airports, with ease!