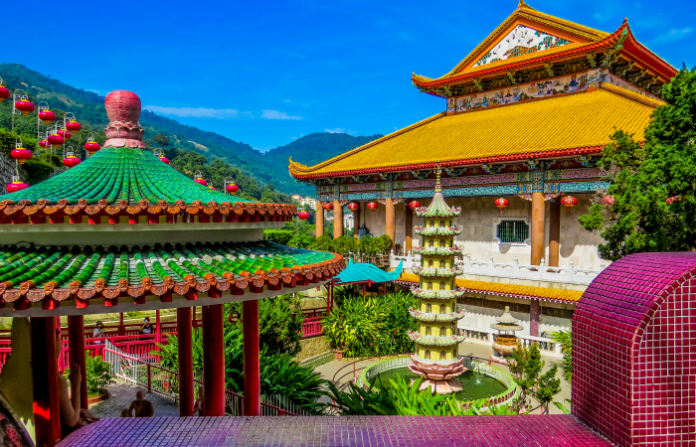 When you are planning to visit Malaysia, you ought to learn about UNESCO World Heritage Sites of Malaysia. UNESCO World Heritage Sites are cultural and natural places of significance that have been recognized by UNESCO. Malaysia is a mix of Malay, Chinese, Indian, and European cultural influences. It offers a wide variety of sightseeing and entertainment options. Besides, it has four UNESCO Malaysia World Heritage Sites. Two of these sites hold cultural importance, and the other two are of natural significance. 
The Malaysian UNESCO World Heritage Sites:
Natural UNESCO Sites in Malaysia
Gunung Mulu National Park

Kinabalu National Park
Cultural UNESCO Sites in Malaysia 
Melaka and Georgetown

The Lenggong Valley
Mesmerizing Gunung Mulu National Park
UNESCO recognized this natural area as a World Heritage site in the year 2000. It is located in the state of Sarawak on the island of Borneo. The park has caves and karst formations surrounded by a breathtaking rainforest setting. The caves have been studied and explored by several scientists as a part of the Mulu Caves Project. A towering pinnacle named Gunung Mulu and Sarawak Chamber- the largest cave chamber in the world- is bound to leave you dumbstruck. 
Gunung Mulu National Park offers a vast range of enthralling activities like trekking and adventure caving. You can also experience the world's longest tree-based canopy skywalk at Mulu's Canopy Skywalk.
Breathtaking Kinabalu National Park
This UNESCO World Heritage site of Malaysia was scripted in this list in 2000. Mount Kinabalu is the highest mountain in Southeast Asia. This beautiful and natural landscape is worth your time. The place is known for its diverse and rich flora and fauna. You will be fascinated to know that this UNESCO World Heritage Site of Malaysia is a house for 4000 species of flora and fauna. If you love hiking, then this UNESCO site allows you to reach the top of Mount Kinabalu. 
Straits of Malacca's Historic Cities – Melaka and Georgetown
Melaka and Georgetown were included in the list of UNESCO World Heritage sites of Malaysia in the year 2008 to illustrate 500 years of cultural and trade exchange between East and West. This UNESCO World Heritage site comprises two city centers: Melaka and Georgetown. The cities are known for their historical and colonial past. 
The city of Melaka demonstrates its 15th and 16th-century history through its buildings, churches, and forts. Georgetown, located in the Malaysian state of Penang, represents the 18th-century British era through its residential and commercial structures. The city carries the Penang Heritage through its famed food and culture. You can witness a distinctive architectural and cultural townscape at this UNESCO World Heritage site.
Archaeological Heritage of the Lenggong Valley
The Lenggong Valley was included in the list of UNESCO World Heritage sites in the year 2012. It is considered as one of the most valuable archeological sites in Southeast Asia. The site is located in Perak, Malaysia and includes four archeological sites. Excavations at this site have led to many traces of Malaysia's prehistory. This site has also revealed the oldest human activity in this part of the peninsula. At Lenggong, you can see the open-air museum, skeletons, and cave drawings. Besides, valuable finds such as jewelry, pottery, weapons, and tools can be seen here.
Staying and Dining Experiences at UNESCO Sites 
The cities of Melaka and Georgetown offer the best-staying options among the four UNESCO World Heritage sites of Malaysia. Gunung Mulu National Park has incredible homestays within walking distance from the park. 
You can indulge in a shopping spree at Melaka and Georgetown's shopping malls. When you are at Gunung Mulu National Park, you can buy some handicrafts that the local community sells. Thriving nightlife in Georgetown has made it a vibrant tourist destination. 
Baba Nyonya dishes, char kuey teow, wanton noodles are some of the Local cuisines you would not want to miss when you are at Melaka and Georgetown. Lenggong is also known for its freshwater fish dishes, one such being pekasam.
Traveling across UNESCO World Heritage Sites in Malaysia
Buses form the backbone of public transport in many parts of Malaysia, like Georgetown. Also, places like Lenggong and Kinabalu Park are accessible only by roads. However, Gunung Mulu National Park can be accessed by road till Kaula Baram from where you will be required to hire a boat. 
As the bus is the prominent transport mode to travel to these heritage sites, redBus is the right option for you. redBus, India's largest online bus ticketing platform, is here to make your travel a pleasurable experience. You can choose to travel via popular buses like Perdana Express, Mayangsari Express, etc. Make use of the redBus website to book your bus tickets at the best prices. It will facilitate you to explore and experience these heritage sites and to be a part of the Penang heritage, thus making your trip an unforgettable one.
To know about online bus ticket booking in Malaysia in Malay, please visit: Online tiket bas