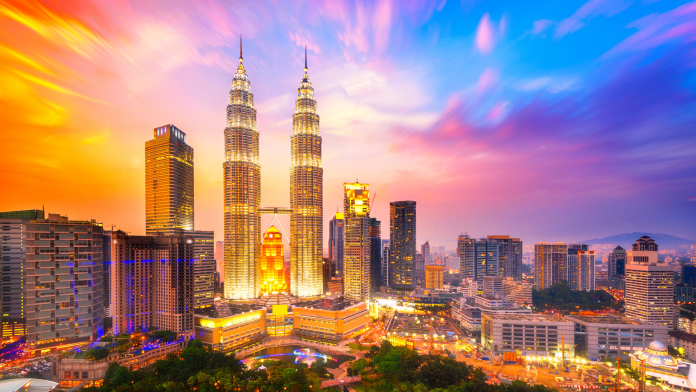 Give all the obvious destinations a miss and pick one of the best countries in Asia- Malaysia. There is no dearth of amazing places to visit in Malaysia – thanks to its diverse landscape. From tall skyscrapers, theme parks, beaches, mountains, and national parks to rainforests and historical places, tourists are in for an adventure in Malaysia.
Petronas Twin Towers
Almost every tourist visiting Kuala Lumpur, Malaysia, starts their tour by visiting the majestic Petronas Tower, also known as the Twin Towers. The Twin Towers are also one of the tallest skyscrapers in the world, surrounded by the beautiful KLCC Park. The park also has an artificial lake along with plants of different species. The KLCC Mall is situated in the Twin Towers along with the corporate offices of many big companies.
Batu Caves
The enchanting Batu Caves are situated in Kuala Lumpur. Inside the Batu Caves are temples and statues of Hindu Gods and deities and are thronged by locals and tourists for all the obvious reasons. It takes around half a day to explore these caves and reach them by train in 40 minutes from Kuala Lumpur. A worthwhile addition to your itinerary, Batu caves is one of the historical places to visit in Malaysia.
Penang
Penang is an island in Malaysia, famous for the amalgamation of different cultures. One can find a mixture of Indian, Malay, Chinese, and European cultures, ranging from food to architecture. There are a number of places to visit in Penang. Kek Lok Si is a famous Chinese Temple in Penang. For food lovers, the street food in Penang is a must-try. For those looking to relax at a beach, the Batu Ferringhi beach is a great place to unwind since it is less crowded.
Melaka
Melaka or Malacca is one of the best places to visit in Malaysia and is very popular owing to its colonial-style architecture. The city oozes old-world charm and has excellent Dutch-style architecture. The Christ Church and Stadthuys Square are some of Malaysia's most beautiful churches. There are flea markets where one can shop for local handicrafts and food. The Famosa Fort on top of St Paul's Hill offers a mesmerizing view of the city.
Kota Kinabalu
Kota Kinabalu is the capital of Sabah, a state located in the north part of Borneo. The city is home to the highest climbable mountain in Southeast Asia, Mount Kinabalu. Kota Kinabalu is also famous for its scrumptious street food and lip-smacking delicacies. There are many activities to do in Kota Kinabalu, and one can visit the different islands while trying out water sports like snorkeling.
Perhentian Islands
The Perhentian Islands are one of the most breathtaking islands in the country, famous for their coral reefs and rich marine life. It is less popular compared to Langkawi but has so much to offer. The Island is split into two parts- Besar and Kecil. Besar is far more expensive while Kecil is perfect for backpackers and those on a budget. The pristine blue beaches are perfect for diving and snorkeling.
Legoland Malaysia
Legoland is the perfect amusement park for kids as well as adults. The park features more than 40 rides and attractions. In addition, the park premises hosts several restaurants, shops, and entertainment arenas that cater to people of all ages. The roller coaster is one of the most popular rides. It is perfect for a family outing and kids, and you can also participate in workshops regularly organized at Legoland.
Final Thoughts
One can never be bored with so many places to visit in Malaysia. It is a perfect vacation destination for families and couples to explore the beauty of this country. Traveling within Malaysia is easy because of the smooth network of buses and trains connecting all the major cities and small towns. There are many tour operators in Malaysia offering safe and affordable buses. One can book bus tickets right in the comfort of their home to have a hassle-free journey in Malaysia.
Malaysian tourists can book bus tickets online and plan their travel, by visiting our Malay page – Online Tiket Bas!