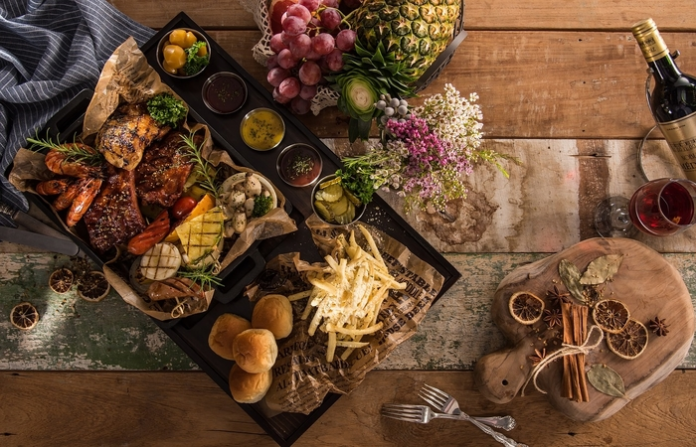 Since the COVID-19 outbreak, home is now the place where most of us are currently seeking refuge. Nobody likes to be confined, but that's the demand of the time as social distancing is the only way to control the spread of novel Coronavirus. Many of you must be fond of traveling, and many of you must be fond of trying several cuisines. However, even when you're in quarantine, you can enjoy the best food in the world by cooking it yourself! We've brought you a list of the most popular dishes from different countries. Make these for yourself and your loved ones and bring the world in your kitchen!
Iced Chocolate Frappe, Cuba
As the months of April and May mark a drastic change in weather with the rise in temperature, all the hot and savory drinks get replaced by something cool and refreshing. And, as you're stuck at home due to Coronavirus lockdown, the Iced Chocolate Frappe from Cuba can be one of the best drinks in the world to try. A treat for chocolate lovers, Iced Chocolate Frappe, can be best enjoyed at breakfast or snack-time.
Primary ingredients: Almond milk, coconut cream, cocoa powder, light brown sugar, cold water
Preparation time: 5 minutes 
Pizza Napoletana, Italy
Pizza is, indeed, the most popular food in the world. Apart from its stunning canals and world-famous architecture, if Italy is famous for anything, it's the Pizza. While Pizza can be found in thousands of forms in Italy, Pizza Napoletana or Naples-style Pizza is loved by all. With thin crust, fluffy edges, and never-to-be-forgotten aroma, Pizza Napoletana will make your quarantine period delightful. 
Primary ingredients: Tomatoes, mozzarella cheese, pizza base, and garlic
Preparation time: 2 hours
Baklava, Turkey
Baklava, with its mouthwatering taste and nectarine aroma, can surely be called the best dessert in the world. While Baklava can be found in various regions of Europe, nothing can beat the Turkish baklava for its light and crispy texture. Baklava originated from Central Asian Turkic tribes and soon embalmed every nook and corner of Turkey. If you want to taste your cooking skills during the quarantine period, try Turkish Baklava. 
Primary ingredients: Phyllo sheets, Melted butter, Walnuts, Sugar, Lemon wedge
Preparation time: 4-5 hours
Chaat, India
Talk Indian cuisine, and it's impossible to ignore chaat. Chaat is such an inherent part of Indian food that sometimes, both seem synonymous. Chaat is one such dish that can be prepared with everything and anything; hence many people consider it the best food in the world. Once you prepare this tangy-tasty dish at home, it's sure to lure you back to the kitchen. 
Primary ingredients: Boiled potato, Aloo Tikki or Dahi Bhalla, chickpeas with tangy sauce, tamarind sauce, coriander chutney
Preparation time: 20 minutes 
Nasi Lemak, Malaysia
What Pizza is to Italy, Nasi Lemak, is to Malaysia. It's omnipresent! Nasi Lemak is the national and one of the most traditional dishes in Malaysia. You can have Nasi Lemak both for breakfast or the main course. In addition to Malaysia, Nesi Lemak is also one of the most popular food in neighboring countries like Singapore, Thailand, and Brunei, where a significant Malaysian population resides. 
Primary ingredients: Coconut milk steamed rice, tamarind juice, sambal, boiled eggs, peanuts
Preparation time: 1 hour
You may like: A culinary tour of Malaysian cities
Chili Crab, Singapore
Considered as one of the best food items in South-east Asia, Singapore's Chili Crab was also listed as one of the most delicious food in the world by a famous news channel. Despite the name, this Singaporean dish is not very spicy since the crabs are cooked in a sweet and savory sauce along with chili-tomato sauce. 
Primary ingredients: Mud crabs, tomato paste, hot-sweet chili sauce, eggs, ginger, garlic, steamed rice
Preparation time: 15 minutes
Tom Yum Goong, Thailand
The words Tom and Yom come from two Thai words. While the first indicates the boiling process, the second refers to the spicy salad made in Thailand. This hot and sour soup represents all the spicy flavors the Thai cuisine stands for. Tom Yum Goong is the regional dish of Central Thailand and is said to have immune-boosting power. As you're stuck at home and health is one of your priorities, Tom Yum Goong can be one of the best food in the world to gorge on. 
Primary ingredients: Lemongrass, coconut milk, chili, lime leaves, shallots, fish sauce
Preparation time: 30 minutes
Sushi, Japan
Many consider Japanese food as the best cuisine in the world as it's not only tasty but also healthy and hygienic. One such specialty of Japanese food is Sushi. Sushi can be found in a variety of forms, ingredients, and styles of preparation. This low-in-fat dish is perfect for those who don't want to add extra calories during their stay-at-home period. The dish is great for people with cardiovascular issues. 
Primary ingredients: White-rice, seafood, vegetables, tropical fruits, soy sauce, ginger
Preparation time: 20 minutes
Pho, Vietnam
Are you the one who loves noodles? Then this Vietnamese dish is what you must try preparing at home. Pho, the hot soupy noodle dish, is something that you can relish while working from home and need a refreshing break. You may not even require special efforts to make this dish as it's only a simple yet delicious arrangement of different flavors. One can call Pho Vietnam's 'unofficial' national dish. 
Primary ingredients: Noodles, fresh vegetables, roasted onions, Thai spices, meatballs
Preparation time: 30 minutes
Clafoutis, France
Panache might be the best chocolate in the world, but once you taste this chocolatey recipe of France, you will forget everything else. Many popular chefs call French cuisine the best food in the world due to its perfect blend of traditional and modern and bold culinary experiments. Clafoutis is another feather on French cuisine's cap. Filled with cherries, Clafoutis originated in the Limousin area of France in the mid-1800s. 
Primary ingredients: Cherries, fresh fruits, choco, butter, vanilla extract, eggs
Preparation time: 1 hour
It may not be easy for you to be stuck at home and living in isolation. However, with some simple tricks and pampering yourself a little, you can make this time a good one. redBus wishes you a happy quarantine period and hopes that the COVID-19 will vanish from the world soon. redBus is the best platform for booking an online bus ticket and is trusted by 75 million people worldwide. 
Which dish did you like the most? What are you cooking these days at home? Let us know in the comments!